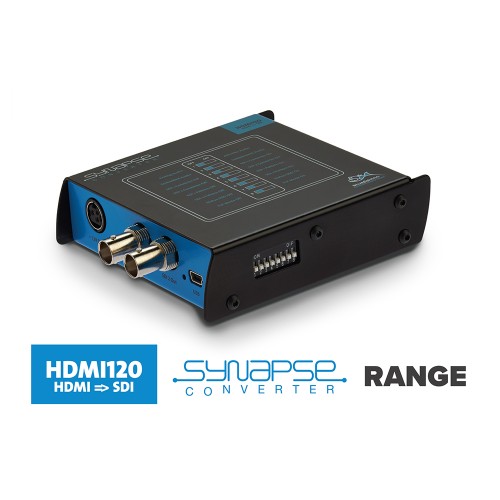 The Synapse HDMI120 Mini Converter is Bluefish444's HDMI to SDI video and audio signal processor for professional video workflows. The Synapse HDMI120 allows conversions from HDMI signals to SDI video, and HDMI/AES/ANA embedded audio input to SDI embedded audio output.
Featuring the same high-quality standards as our video cards, the Synapse Mini Converter range offers a range of conversions, video scaling and PsF mode via configurable DIP switches, and an HDMI copy input & SDI copy output for redundancy.
For more information on the HDMI120 Synapse Mini Converter, visit the Bluefish444 site here.
Technical
Video Input
1 x HDMI 1.3, 1 x HDMI 1.3 Redundancy
Video Output
1 x HD-SDI, 1 x HD-SDI Redundancy
Video Formats
(HD) 1920x1080p/PsF @ 23.98, 24, 25, 29.97, 30, 48, 50, 59.94, 60FPS (HD) 1920x1080i @ 25, 29.97, 30FPS (HD) 1280x720p @ 50, 59.94, 60FPS (SD) 720x576i @ 25FPS PAL (SD) 720x486i @ 29.97FPS NTSC
Progressive to PsF Conversion
1080p50/60 to 1080PsF50/60 1080p24 to 1080PsF24
Down-conversion
1080p50/60 to 720p50/60 720p50 to 576i25 720p59/60 to 486i29/30 1080i25 to 576i25 1080i29/30 to 486i29/30
SDI Compliance
SMPTE 424M (Level A), SMPTE 295M, SMPTE 292M
Audio Input
8 channels of embedded HDMI audio, 1 x digital audio AES/EBU pair, 1 x stereo unbalanced analogue
Audio Output
8 channels of embedded SDI audio
Hardware Features
Downscaling, Progressive to PsF, lockable power supply, auto adaption 3G/HD/SD, test pattern generator, status LEDs, on-screen display, firmware upgrade via USB
Certifications
ISO 9001, RoHS Compliant